HD+ Laptops Prices in India 2023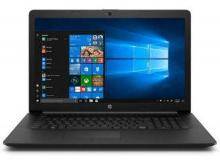 Processor Intel Core i5-8265U (8th Gen)
Capacity 8 GB
Display Size 17.3 Inches (43.94 cm)
Operating System Windows 10 Home Basic
HDD Capacity 1 TB
Load more...
That's all folks
Laptops Available Online
Laptops can be considered as one of the best gifts by modern-day technology. There was a time when laptops were a status symbol, but now, from students to professionals, everyone relies on laptops based on their needs. The best part about them is that one can get a wide range of laptops with different specifications for purposes like blogging, coding, gaming, and more. Companies have also focused on developing low-end affordable laptops that the first choice of the majority of students and beginners. When it comes to laptops for gaming, editing, you will get all high-end features like a powerful processor, super-fast RAM, the latest operating system along with cooling pads, and more. Talking about the brands, You will see laptops from Apple, Lenovo, Asus, Dell, Acer, HP, etc. From low-priced ones to high-priced ones, the above brands offer all of them as per your budget.
Best Laptop Brands In India
Initially, the laptop industry in India was ruled by two, three brands namely Dell, Acer, HP, etc. By the passing time, new companies established themselves and started providing products that were the need of the hour. Some of the companies that revolutionized the Indian laptop industry are Asus, Mi, Apple, Lenovo, Samsung. All the brands give each other a strong competition with various ranges of laptops. Moreover, brands like Asus offer laptops in an affordable price range like the Asus Vivobook X540YA-XO940T Laptop (AMD Dual Core E1/4 GB/1 TB/Windows 10) available at a price of Rs 21,990 and top-end laptops like Asus TUF FX705DT-AU092T Laptop (AMD Quad Core Ryzen 5/8 GB/512 GB SSD/Windows 10/4 GB) that is available in the market at a price of Rs 67,990. The Asus TUF series is the gaming flagship rolled out by the company and it delivers an unmatchable performance in almost all the major aspects.
As of now, the laptops brands have shifted their focus on creating gaming laptops, slim and light laptops. The changes in the design of the laptops are very necessary as it is a task to carry a heavy-weighted laptop for long hours at your back. However, you have to keep it in mind that the thin laptops will be available at a slightly higher price as compared to the regular design laptops. The latest processor that is being used in laptops is the Intel core 11th Generation and AMD Ryzen 9 chipsets. Both the processors are powerful enough to handle multiple heavy applications at a time and run large sized games too.
Low budget laptops from different companies include Asus VivoBook 15 X540NA-GQ285T, Avita Pura NS14A6IND541, Asus Vivobook X540YA-XO940T, HP Chromebook 14a-na0003TU, and more. When it comes to high budget laptops, most of the companies have their own gaming series, like HP has Omen, Acer has Predator, Asus has TUF, ROG, Dell has Alienware and Lenovo has Legion. As per the pricing, all of the mentioned series offer base variants at a price range between Rs 55,000 to Rs 65,000. Some of the gaming laptops by different brands are HP Pavilion Gaming 15-ec0104AX, Acer Aspire 7 A715-41G, Asus ROG Strix G531GT-BQ024T, Asus TUF FX505GT-HN101T Laptop, etc.
What To Consider While Buying A Mobile Phone In India?
A laptop has a few key specifications that should be considered before finalizing a laptop for yourself. It totally depends on you and your budget as you can get a basic level laptop at affordable prices but when it comes to high level laptops, then you are supposed to spend a considerably high amount. The laptops under Rs 40,000 offer a basic level RAM like 4GB to 8GB with Windows 10.1 OS, high refresh rate, and a high quality display. However, as you will go for gaming laptops that will be available at a starting price of Rs 55,000 offer flagship level processor, high capacity RAM expandable up to 12GB to 16GB. However, a durable battery is a myth when it comes to gaming laptops as due to high processing and performance they are unable to sustain for a long time without the charger.
Latest Trends In Laptops
If you are looking for an entry-level laptop then you cannot expect it to come with trending features. However, when you are going for a mid ranged or high-end laptop then you are supposed to have an idea of features that are trending in the laptop market. As of now, most of the companies are focusing on creating thin and light laptops that are easy to carry. Companies like Xiaomi are also making their efforts in terms of improving battery optimization. A new laptop named Mi Notebook 14 Horizon claims to offer a battery back up of 10 hours along with a 65W Power Adapter support. Other brands like Dell, HP have also joined the race by launching ultra-thin laptops with high end specifications.