COD Mobile Napalm New Scorestreak To Be A Part Of Season 2
Published On Mar 08, 2021By Nishit Raghuwanshi Rudra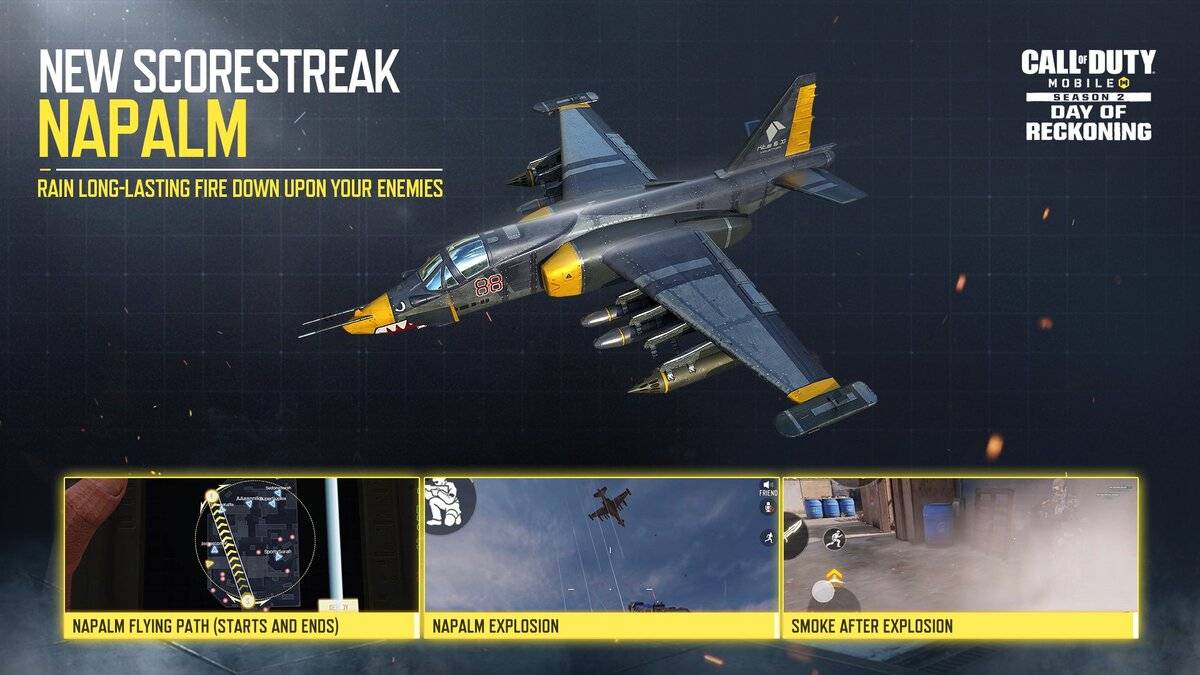 Call Of Duty Mobile has already boosted the adrenaline in millennials and gamers with the launch of season 1 The New Order. Now the franchise is all set to drop the second season of the year. Speculations are that COD Mobile season 2 will start rolling out On March 10 by 6:00 PM IST. It has been confirmed by the franchise that season 2 will be named Day Of Reckoning. https://twitter.com/PlayCODMobile/status/1367988457209962496 Season 2 is no doubt going to introduce some brand new weapons, maps, and scorestreaks. A new scorestreak named Napalm will be added to the game too. Previous leaks also suggested two new weapons and the rollout of a new compact map in the game. [adInContent]
ALSO READ: COD Mobile Season 2 To Roll Out By March 11, All You Need To Know
COD Mobile Napalm Scorestreak
https://twitter.com/PlayCODMobile/status/1368260092869611526 A tweet from the official COD Mobile handle has shared the name and a few images of Napalm. It looks deadly with a yellow and grey-colored body. COD Mobile Napalm will be able to create explosions in its pathway that will be followed by smoke. [adInContentSecond] While activating Napalm, users will be supposed to define a path for it. The plane will follow the path and drop bombs in the way. There is no information about how many kills or combos the user will be supposed to perform for calling Napalm. The scorestreak will be unlocked when people cross a certain tier in season 2.
Other Details Regarding Season 2
https://twitter.com/PlayCODMobile/status/1363156462881697798 COD Mobile franchise already teased two weapons including SPR 208 sniper rifle and the
AS VAL
. Talking about the teased maps, users will encounter a new map named
Shoot House
that will be a compact-sized map with top-notch aesthetics. Apart from that, rumours say that the Shipment 1944 map will get a new look with a modern design based on the current era. Another rumour going on recently was that the COD mobile franchise is going to relaunch the Nuketown map in the game.