Make Your Investment Count With A Powerful Business Laptop
Published On Sep 16, 2020By Vartika Manchanda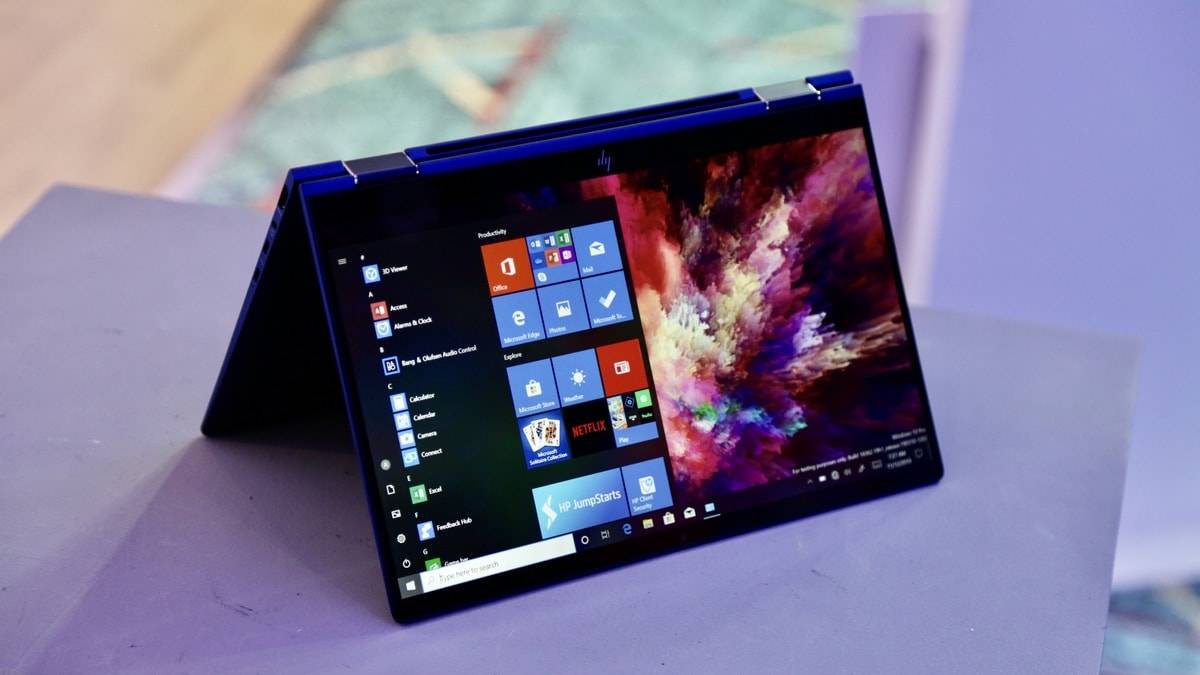 With work from home and virtual meetings established as the new normal, is it also the time to adjust your business laptop to meet the demands of a changing world order? Enterprise users have always expected more from their laptops but the post-pandemic era has added more features like mobility, improved security, and collaborative tools to the list. Unfortunately, requirements like heavy usage and increased efficiency often translate into drab-looking machines that don't quite fit the image of a modern boardroom nor the requirements of present-day executives who may choose to work in an office or a coffee shop or even in their bed.
Choosing the Most Suitable Enterprise Laptop in 2020
2020 is the year of change, and it may as well be the year that you upgrade your business laptop to something more exciting and productive. HP Elite Dragonfly, the latest business notebook in the HP line-up opts for an inspiring dragonfly blue body. HP Elite Dragonfly packs unlimited power and a host of productivity features into an exceptionally thin yet durable body that is perfect to take on the road or in-flight. It is obvious the current scenario requires you to steer clear of whimsical spending but an advanced enterprise laptop is a strategic investment that can improve the ROI across your business. But how do you go about choosing the best business laptop in a market flooded with options? Well, help is at hand with some advice from us that talks about the most coveted features that you need in today's enterprise laptops.
Excellent Build Quality and Sleek Design
A business laptop should be durable enough to let you work the way you prefer. Besides aesthetics, it should be designed for mobility, day-long usage with impressive battery life, and an immersive display that does not hurt the eyes. An enterprise laptop should also be exceptionally light to be carried comfortably between boardrooms and elsewhere. The HP Elite Dragonfly Notebook is the perfect example of an enterprise laptop designed for busy and modern executives. The laptop comes in striking blue colour with an extremely desirable oleophobic finish. The design also provides supreme portability, being one of the lightest compact business convertible laptop. It comes with an exceptional 4-cell battery with a whooping 56-hr long battery life at a starting weight of just 2.2 pounds.
Enhanced Productivity
Enterprise users need a robust system with enhanced productivity features that promote collaboration, teamwork, and efficiency. In addition to some of the best hardware specs, you also need efficient software that is both secure and convenient. Microsoft for Business ticks all these boxes, being the most preferred choice among the enterprises for better productivity. Whether it is OneDrive for safe and centralized storage, Microsoft Teams for secure communications or the popular MS Office Suite that has been refined for quick access; if your business runs on Windows, you need an enterprise laptop with the latest Windows OS, a powerful processor, and latest software to maximize the productivity. Besides, features like a sensitive touchscreen, awesome display, and rechargeable active pen for taking quick notes during meetings and switching between apps, like the HP Elite Dragonfly Notebook, are excellent additions. The Dragonfly also offers four working modes, including a flexible tent mode for PowerPoint presentations.
Superior Security
The current environment has increased the security risks for enterprises, with an increasing number of employees connecting through unsecured Wi-Fi networks or mobile hotspots at home. Enterprise laptops running on Windows do feature integrated Windows Firewall and Network Protection to secure critical data. However, additional layers of security are always required to protect your data from modern phishing and malware attacks. The Sure Sense security integration in the Elite Dragonfly is all that you need. HP's recent security software uses artificial intelligence and deep learning technologies to learn what malware looks like and blocks potential threats instantly. Enterprise users also require fast and reliable system recovery to avoid downtime and safeguard critical data. HP Sure Recover - an optional feature in the Elite Dragonfly, uses Embedded Reimaging Gen2 to ensure fast, secure, and automated recovery from anywhere, even without internet connectivity. Overall, a safe enterprise laptop must be designed according to the needs of the business user in mind. As most enterprise users have a lot of critical data saved on their device, a good business laptop must include secure and customizable login options, like safe login via Windows Hello Facial Recognition, camera shutter, fingerprint authentication, etc. The HP Elite Dragonfly scores high on this aspect with Windows Hello infrared (IR) for the 720p front-facing camera along with a physical privacy slide, and an optional fingerprint authentication panel.
Seamless Connectivity
Enterprise users need to remain connected at all times, especially in the post-pandemic era where remote working has emerged as the new norm. If you are even a little futuristic, which you should be, we suggest an always-connected enterprise laptop with multiple connectivity options for uninterrupted working experience. HP Dragonfly is an excellent option, being the world's first business convertible with 4x4 LTE antennas, empowering enterprise users to work beyond Wi-Fi.
Enable Enterprise 4.0 With A Windows Laptop That's Stylish Yet Productive
It's about time you make your IT investment count by empowering your executives with a powerful productivity tool in the form of a reliable, secure, and efficient enterprise-grade laptop. Right from a powerful processor, enhanced security features, lightweight build and portable design, powerful camera for remote meetings, long-lasting battery, and 24/7 connectivity; HP Elite Dragonfly Notebook ticks all the right boxes for being the most stylish and productive laptop for enterprises yet.