Power of Desktop Now Available in the Beast of a Laptop
Published On Aug 25, 2020By admin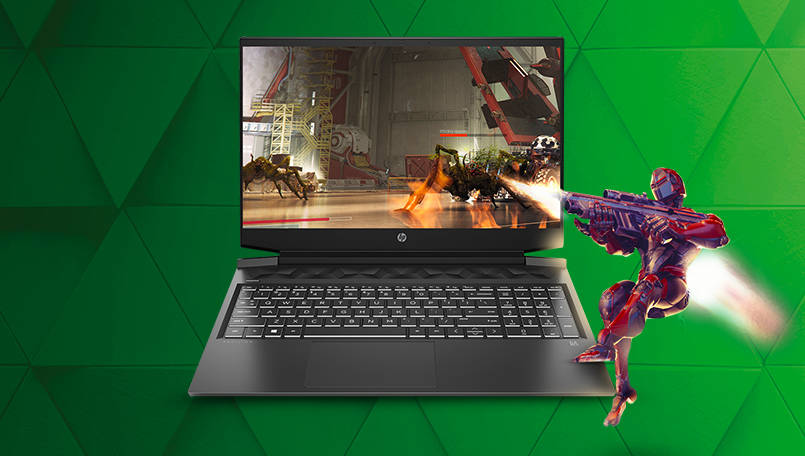 Up until now, the gaming desktop vs.
gaming laptop
debate was inclined towards the former. This was mostly because laptops failed to deliver an evolved gaming experience. Desktop gaming has been the first choice for gamers, with their high-end processors, latest GPUs, immersive displays, and customization options made them a more obvious choice for gamers as compared to their portable counterparts. But as computing technologies continue to evolve, gaming laptops are slowly turning into a viable option for gamers. Top laptop brands across the world are witnessing a steady growth in the demand for gaming laptops, and they are leaving no stone unturned to keep up with the expectations of gaming enthusiasts. The
HP OMEN 15
is a perfect example of how a top gaming laptop powered by 10th Gen Intel® Core™ i7 processor can now give gaming desks a run for their money.
Unparalleled Gaming with the Latest CPU and GPU
The HP OMEN 15 is available with the top of the line Intel CPU model featuring the latest 10
th
 Gen Intel Core i7 processor, which is mostly only found on high-end and expensive gaming desks. This laptop offers an unmatched processing speed and a gaming experience like never before. Talking about the graphics, the Intel model of OMEN 15 comes with up to NVIDIA GeForce RTX 2070 Super with Max-Q design, to ensure that you can enjoy even the latest graphic-intensive AAA titles like The Witcher 3, Control, Doom: Eternal, and all others, exactly as developers want you to.
Keep the Laptop Cool Even When You Run Hot
Hardcore gamers would agree that it is just impossible to keep your cool at times when you are engaged in virtual combats. But no matter how intensive or heated the external conditions are, your gaming laptop should ensure that the internals remain cool. While overheating is a common problem in gaming laptops, this is quickly turning into a thing of the past. For instance, the
HP OMEN 15
features an innovative OMEN Tempest Cooling Technology with three-sided venting and five-way airflow to keep the system cool at all times. Rest assured that every time the gameplay heats up, this top gaming laptop will remain cool and ensure maximum performance. It comes with a unique IR thermophile sensor that not only helps to optimise the cooling, but also reduces the noise and enhances the performance of the laptop.
Turn Every Gaming Session Into an Audio-Visual Treat
The newly launched
OMEN 15
features a 15.6-inch display to provide gamers the big-screen gaming experience on a portable laptop. Moreover, you also get the option to select between a 4K UHD (3840x2160p) AMOLED display or a Full-HD (1920x1080p) display to spruce up the visuals of your favorite games. With a refresh rate of 300Hz, your gameplay will always be crisp and smooth with zero lags or image ghosting. To further enhance your gaming experience, this Windows 10 gaming laptop features HP Audio Boost and HP Dual Speakers with expert tuning by the world-renowned audio products brand, Bang & Olufsen.
Customize Your Gaming Experience with OMEN Command Center
The built-in OMEN Command Center offers a host of customization and monitoring options. It features multiple performance modes so that gamers can easily adjust the performance as per their gameplay. The System Vitals dashboard allows you to accurately monitor metrics like CPU temperature, memory GPU status, and more so that you are always at the top of your game. The command center also allows you to customize the lighting of your laptop with an RGB spectrum.  There is also a Network Booster feature for high-action scenarios when you cannot afford to have an unstable network connection. With a battery life of 12.5 hours, this
latest gaming laptop
 allows you to enjoy your favorite games for long hours without any interruptions.
Enter the New World of Gaming with HP OMEN 15
Laptop brands like HP have played a crucial role in bridging the gap between gaming desks and laptops. As can be seen above, the latest release from HP is equipped with everything that a hardcore gamer would expect from his/her gaming rig. Right from the powerful processor, high-end GPU, innovative cooling technology, crisp display, to long battery life, the HP Omen 15 ticks all the right boxes of being the
best gaming laptop under 1,00,000
 in India. Moreover, with its lightweight and portable design, your gaming sessions are now not just limited to your room, like in the case of a gaming desktop. You can easily carry it around and play your favourite games practically from anywhere in the world. If you are planning to buy a gaming laptop, do consider the latest HP OMEN 15 if you are serious about upgrading your gaming experience.