SP-R 208 Sniper Rifle Now Available In COD Mobile; Know How To Get It
Published On Mar 24, 2021By Nishit Raghuwanshi Rudra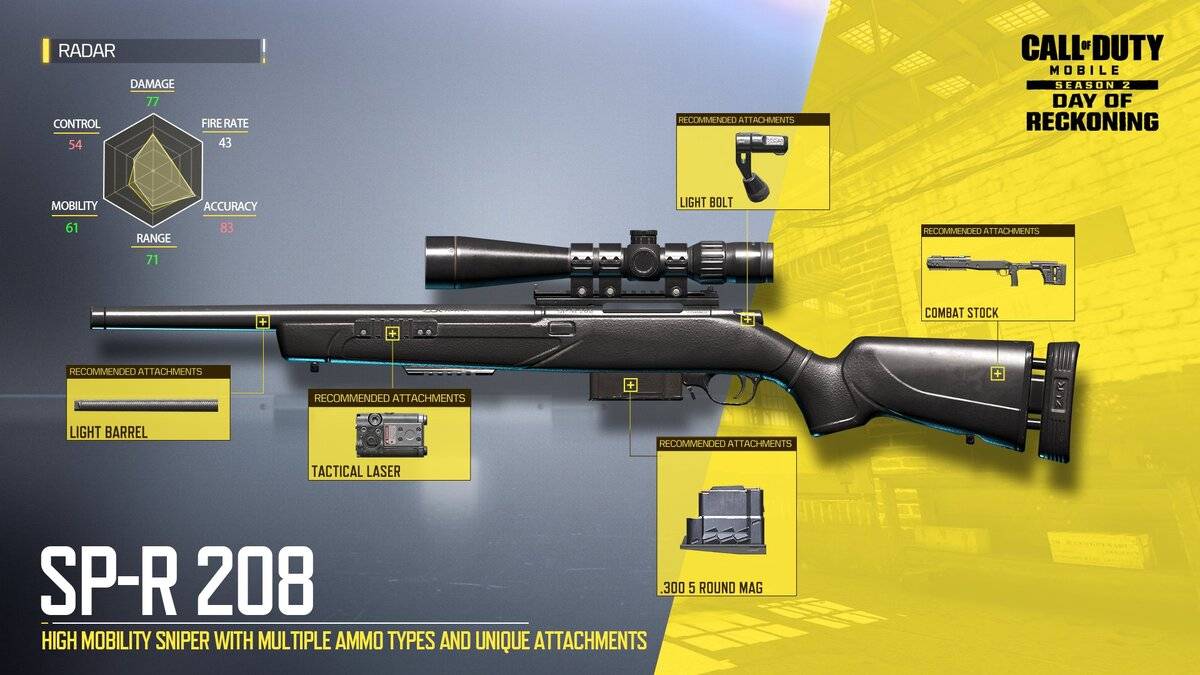 Call Of Duty Mobile
Season 2
has already garnered a lot of hype with brand new character skins, maps, and other amazing features. The game franchise recently added the modern
Shipment map
that was loved by the gamers. In addition to that. the game has also added a
Tank Battle mode
in Battle Royale along with new weapons. As of now, the Elite Marksmen Seasonal Challenge is live in COD Mobile and SP-R 208 Rifle has also made its debut in the game. Players can get the rifle by completing the defined challenges for the same. The SP-R 208 rifle is a bolt-action marksman rifle that made its first appearance in COD Modern Warfare. Have a look at the details of the weapon and know how can you get it in the game.
ALSO READ: COD Mobile Holi Offer, Grab A High Class Crate Or 30 COD Points
COD Mobile Season 2 SP-R 208 Sniper Rifle
https://twitter.com/PlayCODMobile/status/1374511281265373186 SP-R 208 is a bolt-action sniper rifle that can eliminate the enemy in a single shot on upper body. The weapon has 5 rounds in one magazine and it can be extended up to 10 rounds with the help of attachments. The gun offers a fire rate of 43 and a damage rate of 72. In order to add it to your arsenal, the players are supposed to complete the Elite Marksmen Seasonal Challenge Introduced in the game. The event went live today and the gamers will be supposed to complete 6 challenges to get SP-R 208 in the game. First challenge of the game will require the gamers to kill 5 enemies with Sniper rifles, and the second one will be to earn long shot medal five times. Third task will be to kill 10 enemies and that too with Agile Perk. Similar challenges will go on until you reach the last one. In the final challenge, players will be supposed to kill 10 enemies with a headshot using NA-45. After successfully completing the last challenge, players will get the SP-R 208 sniper rifle in multiplayer mode. The Elite Marksmen Seasonal Challenge will go on for the next 23 days, so hurry up, complete them and grab your brand new SP-R 208 sniper rifle.