Top 10 Smart TVs In India That You Can Purchase In 2020
Published On Nov 09, 2020By admin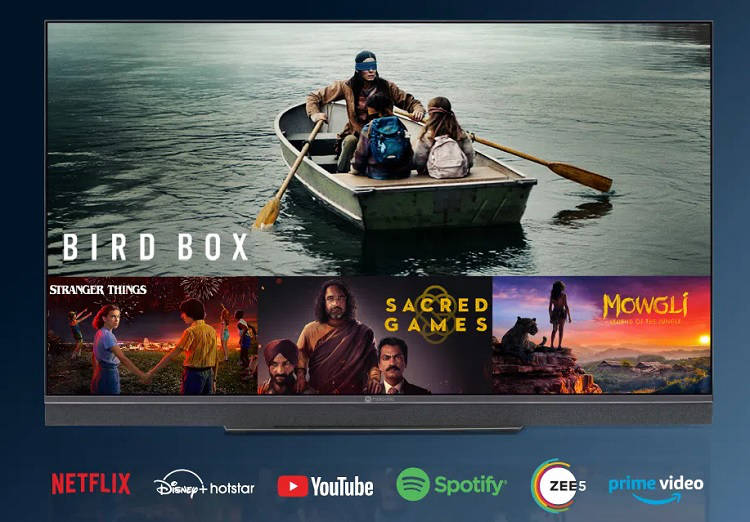 Technology is evolving every day and it is completely changing the way we see the world. The old school appliances in our homes have been replaced by their smart alternatives. Gone are the days when people used to purchase conventional TVs and a lot of them are now inclined towards getting smart TVs. Basically, a TV set that comes equipped with an operating system and can connect to the internet for streaming services is known as a smart TV. A lot of companies like MI, OnePlus, Realme, and a few more have introduced their smart TVs in recent years with the promise to deliver one of a kind performance. On your way to find top smart TV, you'll encounter a ton of options offered by dozens of companies. To help you in getting the best ones, here we have shortlisted the top 10 smart TVs available in India that will offer you a jaw-dropping experience.
Top 10 Smart TVs Available In India
OnePlus 55Q1
This smart TV offers a huge 55-inch QLED screen and claims to have the best build quality  OnePlus smart TV supports Ultra HD 4K resolution streaming along with a 60Hz refresh rate that promises smooth on-screen motion. It is based on the Android 9.0 Pie OS and provides a user-friendly interface. The TV also provides you access to the Google Play Store and the Google Assistant. A major drawback of the OnePlus smart TV is that it doesn't support Netflix. You can neither download the Netflix official app from the Google Play Store nor you can install it from anywhere else and make it run on your OnePlus smart TV. Apart from that, if binge-watching on Netflix is not a major concern for you then you can go for this smart TV by OnePlus. The price of the TV as of now is Rs 62,899.
Mi 4K HDR TV
If you are looking for a smart TV that can provide you a lot of features at decent rates then go for the Mi 4K HDR TV. It offers you a 50-inch display and a refresh rate of 60Hz. Along with that, this smart TV also ensures that you get the best sound quality with the 20W Dolby Audio that produces a dual impact. The Mi HDR TV runs on the Amlogic Cortex A53 processor that offers you a high-speed task execution without lagging. Moreover, the smart TV offers you features like Chromecast, Google Assistant, Bluetooth and it has more than 20 partners for content that means you are not supposed to stop binge watching. The 2GB RAM and the 8GB storage of the TV make it easier for you to save your favorite shows and run multiple tasks at a time. As of now, the Mi 4K HDR TV is available at a price of Rs 31,999.
Samsung N5200 Smart FHD TV
Samsung has always played a major role in the Technology sector and has always delivered high performing devices and appliances. This smart TV by Samsung has a small 32-inch screen as compared to other alternatives available on the list but offers a lot of amazing features. The smart TV offers HyperReal picture engine and the mobile to TV mirroring feature that makes it stand out of the crowd. Along with WiFi connectivity and HDMI support, you also get features like voice guide, game mode, and Eco Sensor in this product by Samsung. As per the price of Samsung N5200 is concerned, it is available at Rs 27,500 on the official website of Samsung. However, the prices may vary on different platforms.
Onida Full HD Smart IPS LED TV
Onida smart TV comes with a display of 43-inch and is based on the Fire TV operating system that means you don't need a Fire TV stick to get the user interface it offers. With the Fire TV UI, you get access to various streaming services including Disney+ Hotstar, Prime Video, Zee5, Netflix, Sony Liv, YouTube, and a lot more to name. The remote control of the Onida smart TV comes with a remote that is similar to the Fire Stick remote. The most amazing part about the Onida TV remote is that it also supports Alexa and you can control your smart TV with the help of Alexa and other appliances working on Alexa can be controlled too. This smart TV by Onida is available at a price of Rs 23000.
Kodak 43CA2022
With a brightness of 500 nits, 4K streaming quality, and Dolby vision, this smart TV by Kodak assures you to give a high-quality performance in all aspects. The smart TV has a display of 43-inches along with voice-enabled remote control and Google Assistant support. The Kodak smart TV also comes equipped with a Chromecast built-in support. As the TV is based on the Android operating system, you will also get access to Netflix, Disney+ Hotstar, Amazon, and a lot more content delivery platforms. The smart TV offers WiFi connectivity and 3 HDMI ports. As of now, you can get the TV from the market at a price of Rs 24,999.
TCL C715 4K QLED TV
We can't miss mentioning TCL C715 if it is something of the top smart TVs in India. This one offers three different screen sizes including 50 inches, 55 inches, and 60 inches. TCL C715 is based on Android 9.0 Pie and comes with 2GB RAM along with 16GB internal storage onboard. All the processing and storage components assure that the TV works efficiently without lagging. Talking about the display, The TV has a QLED display and provides a 4K resolution that represents all the on-screen colors vibrantly. The 50-inches model of the TCL smart TV is available at a price of Rs 44,509 in the Indian market and the price is slightly higher for the 55-inch model and the 60-inch model.
Motorola Revou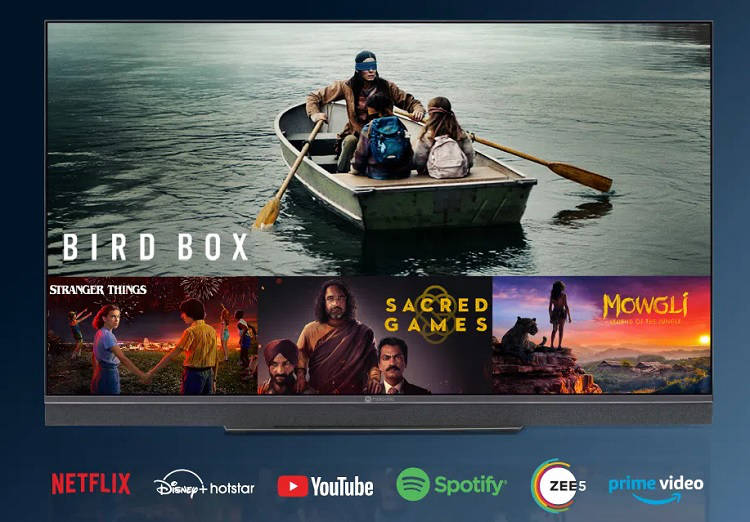 The Motorola Revou smart TV is one of a kind as it is based on the Android 10 operating system which makes it different from all other alternatives. The smart TV offers a 43-inch display and a 60Hz refresh rate. It comes equipped with the integrated soundbar by Dolby Atmos that will shake your room to the core. The Motorola Revou runs on the powerful MediaTek Chipset that provides you best gaming and graphics processing experience. The best part about this smart TV by Motorola is that you can also use the system-wide dark theme due to the presence of Android 10. More features include in-built Chromecast and Google Assistant support that can also help you in operating other smart appliances via Google Home App. Motorola Revou's 43 inch variant can be available at a price of Rs 30,999 and the 50-inch variant is available at a price of Rs 40,999.
Vu 43  inch Full HD UltraAndroid LED TV
Vu offers various smart TVs at affordable prices and a lot of features. It offers a screen size of 43-inch and a Digital Noise Reduction feature which increases the sharpness and color fidelity of the images. The smart TV is based on Android 9.0 Pie and you also get access to apps and games on the Google Play Store. The most unique aspect of the smart TV is that it comes with a feature named Cricket Mode that proffers you 100% visibility of the ball used in the cricket matches. As of now, the 43 inch variant of the Vu smart TV is available at a price of Rs 24,500 in India.
Sony Bravia
Sony Bravia 43X7400H can be said to be one of the finest smart TVs delivered by Sony. This smart TV offers a 43-inch screen along with a 4K Ultra HD display and 3 HDMI ports. Apart from that, the TV has a slim and sleek design and is based on the Android operating system which means you get access to Google Assistant and you can also control other smart appliances based on the Google Assistant with your smart TV. Sony Bravia smart TV offers a 50Hz refresh rate and triluminos display. You can purchase this smart TV by Sony at a price of Rs 51,999 in India.
Mi TV 4X
If you are looking out for a premium smart TV at a reasonable price then you can head to Mi 4X Ultra HD TV. This smart TV offers a size of 65-inch and is based on the Android 9.0 Pie operating system that allows you to get your hands on Google Play Store. In addition to that, you also get Chromecast built-in and Google Voice Assistant support. Talking about the content options, you can use various platforms like Amazon Prime Video, Netflix, Voot, Jio Cinema, Disney+ Hotstar, YouTube, and a few more options. The Google Data Saver feature of the Mi 4X TV allows you to use your phone's hotspot in case your WiFi is down or it is not working properly. As per the price of the smart TV is concerned, you can get it at Rs 54,999.
PriceDekho Verdict
The above-mentioned options can serve as the top smart TVs available in India as of now. most of them have a lot of unique features to offer including screen mirroring, built-in Chromecast, Alexa support, Google Assistant support, and more. You can go for any of them according to your budget and preference. However, According to the final verdict by PriceDekho, we'll suggest you go for the Motorola Revou. The smart TV offers the latest Android OS along with the ability to adopt dark mode and decent screen size. If you are looking for a bigger screen size then you can definitely go for the OnePlus TV or Mi 4X.