Top 5 Gaming Laptops to Buy Under Rs. 1 Lakh
Published On Aug 04, 2020By Editorial Desk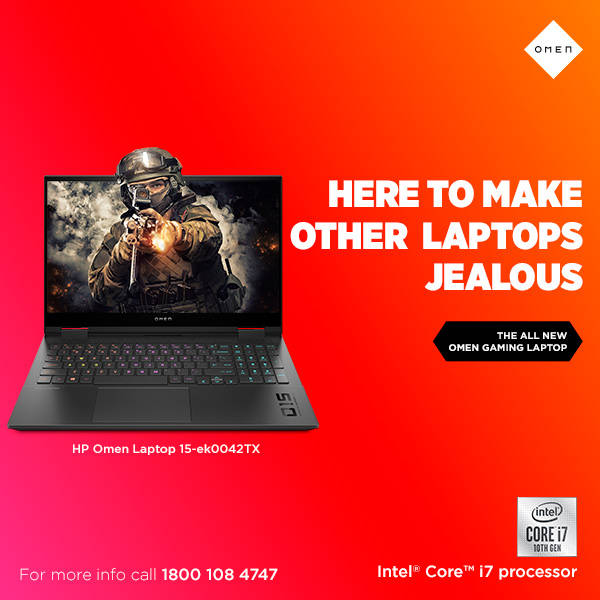 As a gamer, you get many lives. But things are different when you are looking to buy a gaming laptop. You get one chance to get it right. If you are looking for the best gaming laptops under Rs. 1,00,000, here are some of our top recommendations-
HP Omen 15 HP is one of the leading notebook brands. With the Omen segment of laptops, it has also made huge strides in the gaming laptop segment. The newly launched HP Omen 15 is the smallest 15" gaming laptop. It is Powered by 10th Gen Intel® Core™ i7 processor with NVIDIA GeForce RTX 2070 Super with Max-Q Design. Omen 15 also features an industry-first IR Thermopile Sensor which optimizes thermal efficiency by adjusting fan control based on the internal temperature. It also has an Open Tempest Cooling technology with 3-sided venting and 5-way airflow, which allows you to enjoy intensive gaming sessions without worrying about heating up the keyboard or the laptop hand-rest. You also get the option to select between a full-HD display or a 4K UHD AMOLED display with a refresh rate of up to 300Hz to avoid image ghosting and lags. With its full RGB keyboard that has per-key lighting, premium diamond logo, an aluminum palm fist, and a sleek and stylish design, the HP Omen 15 is also an aesthetically pleasing top gaming laptop.
HP Pavilion Gaming 16If you want your gaming laptop to instantly turn into your workstation when required, HP Pavilion Gaming 16 is the way to go. It is the first 16" gaming laptop with a 15" chassis to ensure that users don't have to compromise on compactness or portability. Pavilion Gaming 16 range of laptops are Powered by 10th Gen Intel® Core™ i7 processor and NVIDIA GeForce GTX 1660Ti GPU to handle even the most demanding of AAA titles. Its 16" screen features a WLED display.

 

The Micro-Edge Bezel Display increases the viewing area by up to 7%, making HP Pavilion Gaming 16 one of the best gaming laptops under 1 lakh that is compact yet comes with a big screen. It also features an enlarged touchpad for improved user-experience, no matter if you are gaming, working, or studying.
Lenovo Legion Y540Next in this list of budget gaming laptops is Legion Y540 from Lenovo. Powered by 9th Gen Intel Core processor and NVIDIA Turing GPU, the gaming laptop is adequately equipped to offer an immersive gaming experience. The laptop uses Legion Coldfront technology with individual cooling for CPU and GPU with 4 thermal vents to improve the airflow. Legion Y540 features a 15" FHD display with 144Hz refresh rate and 300 nits of brightness with a layer of IPS Antiglare to ensure that you can enjoy long hours of gaming without tiring your eyes. Coming from one of the best gaming laptop brands, Legion Y540 features a 52.5Wh 3-cell internal battery that can last for up to 5 hours on a full charge. However, it is considerably lower than HP Omen 15 which comes with a battery life of up to 12 hours.
Dell Alienware SeriesDell Alienware range of gaming laptops continues to takes things a notch higher, with new upgrades every year. This year Dell Alienware m17 R2 Laptop was added to its line of gaming laptops, offering serious performance and power, packed in its surprisingly sleek design. This budget gaming laptop features a 17.3" 4K display and a resolution of 1920x1080 with a refresh rate of 60Hz or 144Hz. It is powered by Intel's new 10th Gen H-Series processor and an Nvidia Super GPU. Gamers are not impressed by its average battery life and loud fan noise. But, many are in awe of its intergalactic design of the keyboard and the Tobii's eye-tracking sensor that tracks your eye movement to enhance the overall gaming experience.
Asus ROG Strix GThe ROG range of laptops, especially Strix G, is very popular among gamers in India looking for the best gaming laptop under 1 lakh. Featuring the 9th Gen Intel Core Processor and NVIDIA Ge-Force GTX graphics, it enables you to enjoy an evolved gaming experience. Available in 15" and 17" models, it comes with a full HD (1920x1080) IPS-level display with a refresh rate of 120Hz. ROG Strix G features a 3D Flow Zone technology with Dual-Fan architecture for improved cooling. There is also a Smart Keyboard Cooling feature with Self-Cleaning Anti-Dust Tunnels to keep the internals cool and clean. The red backlighting of the keyboard can be managed with the Asus Aura Sync technology, which offers up to six different lighting options. Strix G is also equipped with the ROG RangeBoost technology to ensure a stable Wi-Fi signal at all times.
Selecting the Best Gaming Laptop Under 1 Lakh
Gone are the days when purchasing a gaming laptop used to be a game of compromises. You no longer need to forgo a high-end graphics architecture if you want a lightweight laptop or even break the bank to possess a top gaming laptop. Make sure that you clearly understand your expectations from your laptop as this will make it easier for you to compare the options listed in this post and make the right selection. Your search for the best affordable gaming laptop ends here. It's game on.