Vodafone Idea announces eSIM service in India, currently for iPhone users only
Published On Jul 20, 2020By Vartika Manchanda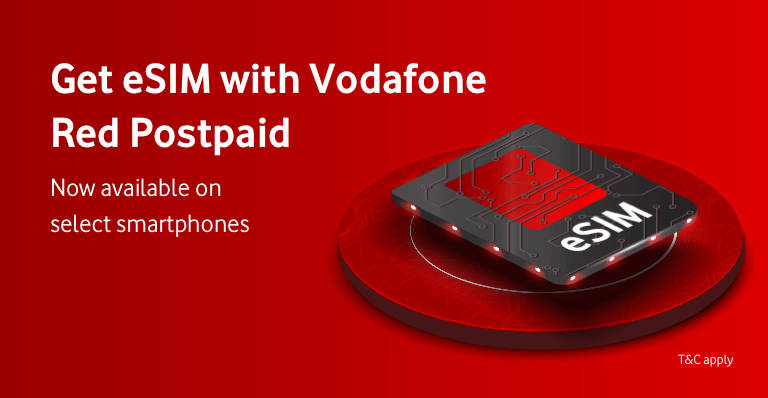 Vodafone Idea launched eSIM support for its postpaid customers. This service will initially be limited to Vodafone Idea customers in select circles of Delhi, Gujarat, and Mumbai. The availability of the eSIM support is currently confined to eSIM compatible Apple devices including the iPhone 11, iPhone 11 Pro, iPhone 11 Pro Max, iPhone SE, iPhone Xs, iPhone Xs Max & iPhone XR. The offerings will soon be extended to Samsung Galaxy Z Flip and Galaxy Fold as well.
Avneesh Khosla, Director – Marketing, Vodafone Idea, said, "Vodafone Idea is excited to introduce eSIM technology for our postpaid customers which enables them to enjoy the benefits of convenience and flexibility of having more than one sim even on single sim device. We, therefore, believe that eSIM will provide an enhanced experience to our customers as it will enable them to do a lot more with their device."
What does this eSIM facility exactly mean?
This service enables you to carry out normal functions that come with your SIM card like calling, SMS, internet browsing, and more, without needing a physical card to access the network. Instead, there will be an integrated SIM chip that will be compliant with all the supported mobile network operators.
Airtel & Jio are also offering a similar service in India. However, Vodafone Idea has taken the first-mover advantage when they announced the service for Apple Watch Cellular models last month.
How to get the eSIM support on your device?
The conversion process is pretty simple. First, confirm your eligibility and the compatibility of your device. Once you have ensured that, you need to send an SMS eSIM < space > registered email id to 199. If the email id is valid, you will receive a confirmation SMS to which you need to reply with "ESIMY" to confirm the request. Post that you will be asked to provide your consent over a call. After providing your consent, you will receive a QR code on your registered email id, which needs to be scanned and you will need to follow the prompts on the phone to complete your activation.
For further queries, you can click 
here
If you're a new customer, you can visit any Vodafone store with a photo and proof of identity to secure a new connection and then follow the same instructions.